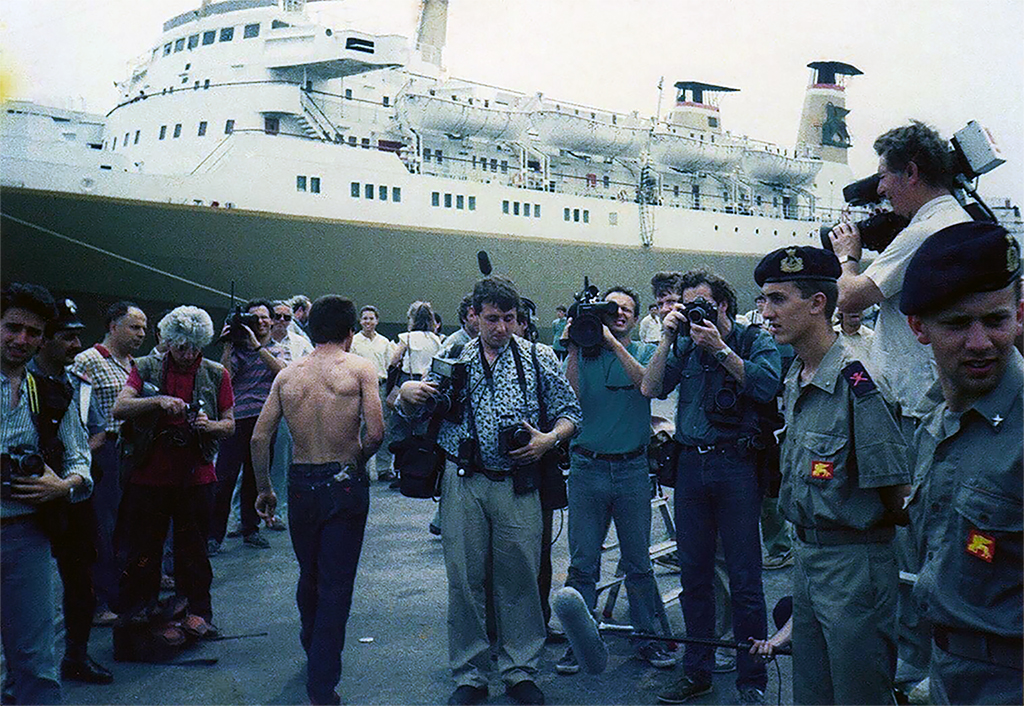 July 4 - September 11
ZETA Contemporary Art Center is pleased to present Manifesto DESERTION, a project by DebatikCenter of Contemporary Art (DCCA). Manifesto DESERTION follows Manifesto HIJACKING from 2022, which explored art's ability to archive traces of anti-colonial resistance discourses in Southeastern Europe.
Manifesto DESERTION begins with FIND YOUR TONGUE by Pleurad Xhafa: A happening on a whistleblower who exposed the collusion between the Albanian government and organized crime.
It continues with RADIO DESERTION, a sound installation consisting of voice recordings by poets, artists, philosophers and curators reflecting on two interrelated questions: How can strategies of desertion be used today to disrupt contemporary forms of cultural and political hegemony? And what does it mean to desert history itself?
RADIO DESERTION is followed by EDEN EDEN EDEN, an exhibition developed in three chapters, which from the center of Tirana expand towards the margins and vice versa, thus proposing tools for the construction of a Desertion Archive, ranging from Russian realism to Albanian socialist realism, from conceptualism to today's activism, up to spiritualism and magic as elements of political exorcism.
EDEN 1: THE DESERTER, restored by Sonja Lau: A specially commissioned reproduction of Ilya Repin's infamous painting The Deserter (1917) by the artist Zef Shoshi (b. 1939), sets the ground for a chain of reflections on absences and presences, originals and copies, anachronisms and speculative histories, as a means of considering the desertion of art history as a symptomatic condition of the region.
EDEN 2: MOVING BILLBOARD, agitated by La Société Spectrale (Armando Lulaj, Jonida Gashi, Pleurad Xhafa): The sudden appearance of 24 billboards in unexpected locations across Tirana for one-hour intervals over the course of a single day, forms the basis for exploring the possibility of deserting established models of exhibition making. La Société Spectrale has invited 12 artists to contribute two works each, one of their own and another by a deceased artist, whose practice has been important to them and whose work still speaks to the present moment or the imminent future.
EDEN 3: LIGHTING A FIRE ON THE BOTTOM OF THE OCEAN, conjured by Vincent W.J. van Gerven Oei & Çiçek İlengiz: Against the background of the ineffectiveness of political action and in the deserted Albanian landscape of ideas, this project seeks to activate the nature of the as yet unrealized forest surrounding the city of Tirana by different, magical means.
Manifesto DESERTION continues with SURVEILLANCE, a project that investigates the spread of data leaks, dereliction of duty, and the abandonment of state structures, and concludes on 11th September with ENACTION, a historical re-enactment that includes the use of original audio recordings from the 1997 uprising.
Manifesto DESERTION also announces the publication of the third volume in the series BIBLIOTEKA ART & POLITIKË, an edited collection by Raino Isto on the legacies of socialist realism as a global method. The first two volumes were Armando Lulaj and Marco Mazzi's fʌkt: Një kundërhistori e së tashmes and Vincent W.J. van Gerven Oei's Rënia e së ardhmes: Arti, korrupsioni dhe fundi i tranzicionit shqiptar.
Traces from all the projects will be visible at ZETA Contemporary Art Center within a specific display designed by Armando Lulaj.
Manifesto DESERTION was conceived by: Boris Budini, Jonida Gashi, Vincent W.J. van Gerven Oei, Raino Isto, Jora Kasapi, Ataol Kaso, Valentina Koça, Sonja Lau, Armando Lulaj, Ylber Marku, Marco Mazzi, Redon Skikuli and Pleurad Xhafa.








Image on this page: Desertion Archives by Armando Lulaj, 2007. 35mm single projection, color, silent. Photo/Courtesy of Agim Kubati and DebatikCenter of Contemporary Art. Manifesto DESERTION was supported by: Foundation for Art Initiatives, Goethe-Zentrum Tirana. Co-funded by the European Union.